While going through some old stuff this weekend, I realized that I had enough audio gear lying around to make for an interesting photo: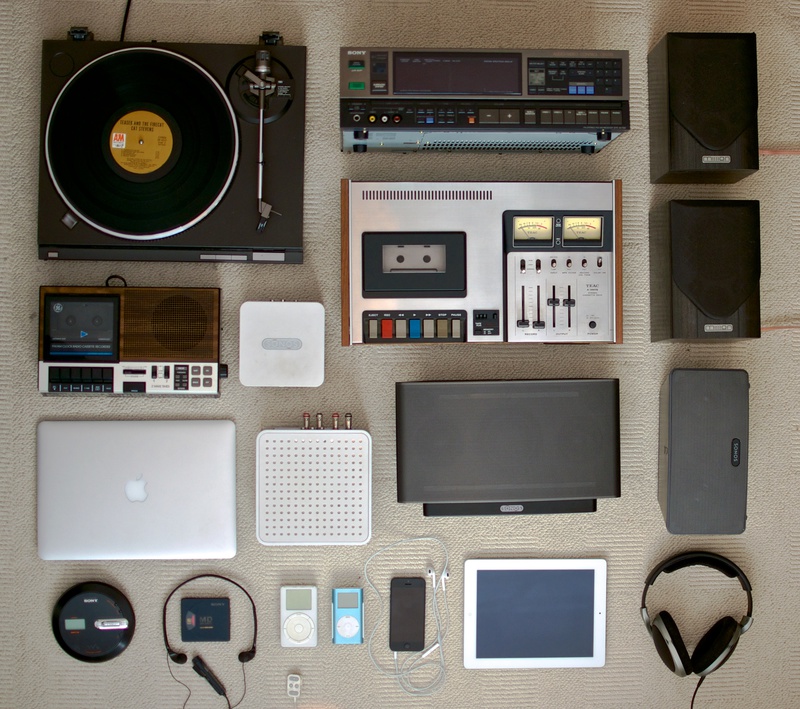 Gear Details
For the curious, from the top-left, going across:
Technics SL-QD33-1, direct drive automatic turntable system
Sony STR-AV780, FM-Stereo / FM-AM Receiver
Mission m30i, 2-way Bookshelf Speakers
TEAC A-360 Stereo Cassette Deck1
GE 7-7956B, FM/AM Clock Radio Cassette Recorder
Sonos CONNECT
MacBook Air2
Sonos CONNECT:AMP
Sonos PLAY:5
Sonos PLAY:3
Sony D-NE330, CD Walkman
Sony MZ-E55, MD Walkman (MiniDisc player)
iPod (original version, 5GB, firewire)
iPod mini
iPhone 5
iPad 3
Sennheiser HD-555 headphones
Photo Details
It ended up taking me two days to capture this photo. The first day was spent arranging the gear (with repeated tweaking this way and that), and then figuring out how to get the shot. I ended up standing on a chair, holding a tripod with my D90 on the end, so it was directly above the scene, pointing downwards.
But, since I was aiming blindly, using a remote shutter release, and everything just barely fit in frame of my 35mm lens, I had to take literally 3 dozens of photos until I got one that was framed correctly. And when I finally did, I wasn't happy with the lighting. So, I left everything set up until the following morning, when better light was coming through the window, and repated the blind shooting until I finally got a winner.
---
The wood grain, brushed metal, buttons, sliders, switch, and VU meters on this striking fella are what got me started on this whole project. ↩

A bit of a stretch, I know, but it fit well in the layout, and you can listen to music on it… ↩

As in, literally literally. ↩